Dr. Sebastian Rhein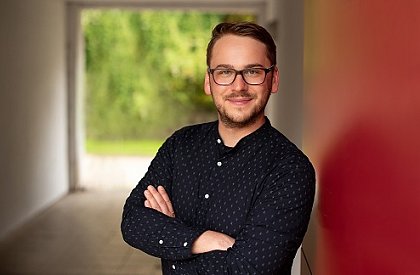 Contact
Dr. Sebastian Rhein
room 138
Große Steinstraße 73
06108 Halle
phone: 0345 55-23322
fax: 0345 55-27191
sebastian.rhein@wiwi.uni-halle.de
Sprechzeiten: nach Vereinbarung
(Office hours by appointment)
postal address:
Martin-Luther-Universität Halle-Wittenberg
Juristische und Wirtschaftswissenschaftliche Fakultät
Wirtschaftswissenschaftlicher Bereich
Lehrstuhl für Statistik
06099 Halle (Saale)

About me
07/2022 PhD thesis (summa cum laude)

since 01/2020 research assistant at the chair of Statistics at Martin Luther University Halle-Wittenberg

06/2018

–

05/2019 guest researcher at the Fraunhofer-Institut für Mikrostruktur von Werkstoffen und Systemen IMWS Halle (Saale)
05/2018

–

12/2019 research assistant at the chair of Economic politics and economic research at Martin Luther University Halle-Wittenberg
10/2013 – 01/2016 study of Economics (Master of Science) at Martin Luther University Halle-Wittenberg

with focus on

Sustainability
10/2007 – 10/2012 study of Economics (Bachelor of Science) at Martin Luther University Halle-Wittenberg
Scientific work
Research interests:
Resource Economics (esp. plastics)
Transformation processes from a linear to a circular economy
Motivations for action and customer behaviour within these processes
PhD thesis
On the way towards a circular economy? An empirical analysis of consumer and corporate attitudes regarding a sustainable use of plastic packaging
Publications and conference papers:
Articles in refereed journals
Articles in anthologies and
journals/monographs
Sträter, K. F., Rhein, S. (2021). Das Verhältnis zwischen Polizei und Bürger*innen in Deutschland. Ein Erfahrungsbericht über Möglichkeiten und Grenzen der qualitativen Auswertung von Online-Kommentar- und -Diskussions-Threads, in: Jukschat, N., Leimbach, K., Neubert, C. (Hrsg.). Qualitative Kriminologie, quo vadis? Stand, Herausforderungen und Perspektiven qualitativer Forschung in der Kriminologie, Beltz Juventa, Weinheim, 142-168.
Rhein, S., Schmid, M., Sträter, K. F. (2020). Besondere Aspekte von Interviewsituationen – Ein Erfahrungsbericht, in: Raich, M., Müller-Seeger, J., Ebert, H. (Hrsg.). Symposium Qualitative Sozialforschung 2019. Dialoge, Denken und Durchbrüche. Hallesche Schriften der Betriebswirtschaftslehre, Springer Gabler, Wiesbaden, 3-23. DOI: https://doi.org/10.1007/978-3-658-32463-6_1 .
Schmid, M., Rhein, S. (2018). Kunststoffflut – Potenziale von Substitutions- und Designstrategien. Wirtschaftsdienst, 98(12), 877-883, DOI: 10.1007/s10273-018-2380-x .
Rhein, S. (2017). Stakeholder-Dialoge für unternehmerische Nachhaltigkeit. Eine qualitativ-empirische Studie zum Diskursverhalten von Unternehmen, Wiesbaden, Springer-Gabler. DOI: 10.1007/978-3-658-16275-7 .
Selected Conference contributions:
Herrmann, C., Rhein, S., Dorsch, I. (2021). A Social Network Analysis of the Fridays for Future Movement. Statistische Woche 2021, digital.
Herrmann, C., Rhein, S., Sträter, K. F. (2021). Ein verantwortungsvoller Umgang mit Plastik: Ein Mixed-Methods-Ansatz zur Analyse individueller Zahlungsbereitschaften für Verpackungssubstitute. Qualmet Symposium 2021, Hall in Tirol, Österreich.
Rhein, S., Sträter K. F. (2021). Leitbildentwicklung mit der Methode GABEK® – ein Praxisbericht am Beispiel des sozialen Jugendvereins congrav new sports e.V. Qualmet Symposium 2021, Hall in Tirol, Österreich.
Rhein, S., Schmid, M. (2019). Triangulating qualitative data derived from interviews with free text answers from online surveys: Insights from a study about plastic consumption. Qualmet Symposium 2019, Hall in Tirol, Österreich, hier .
Reviewer activities
Journal of Cleaner Production
Journal of Environmental Planning and Management
Resources, Conservation and Recycling
Award:
BestMasters 2016, Springer Verlag
---
---