Christoph Herrmann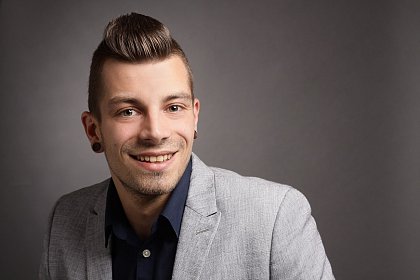 Contact
M.Sc. Christoph Herrmann
room 137
Große Steinstraße 73
06108 Halle
phone: 0345 55-23382
fax: 0345 55-27191
christoph.herrmann@wiwi.uni-halle.de
Sprechzeiten: nach Vereinbarung
(Office hours by appointment)
postal address:
Martin-Luther-Universität Halle-Wittenberg
Juristische und Wirtschaftswissenschaftliche Fakultät
Wirtschaftswissenschaftlicher Bereich
Lehrstuhl für Statistik
06099 Halle (Saale)
Halle (Saale)
About me
since 07/2017 research assistant at the chair of Statistics at Martin Luther University Halle-Wittenberg

04/2015

–

06/2017 student assistant

at the chair of Statistics at Martin Luther University Halle-Wittenberg

10/2014

–

06/2017 study of Empirical Economics and Policy Advice (Master of Science) at Martin Luther University Halle-Wittenberg with focus on Empirical Economics
10/2011

–

09/2014 study of Economics and Management and Political Science (Bachelor of Science) at Martin Luther University Halle-Wittenberg
born in 1992
Scientific work
Research interests:
Behavioural economics
Volunteering
Discrete choice experiments
Data analysis
Sports
Publications:
Lindner, S., Herrmann C. (2020). The Behavior of Spontaneous Volunteers: A Discrete Choice Experiment on the Decision to Help. HICCS, Hawaii. DOI: 10.24251/HICSS.2020.264 .
Herrmann, C. (2017). Der Einfluss von Referenzpunkten auf Verteilungspräferenzen.

Unpublished master thesis, Halle (Saale).
Conference contributions:
Lindner, S., Herrmann C. (2020). The Behavior of Spontaneous Volunteers: A Discrete Choice Experiment on the Decision to Help. HICCS, Hawaii. (Talk)

Herrmann, C., Kirschstein, T., Lukas, D. (2019): Individual Performance Drivers of Professional Biathletes. Statistische Woche 2019, Trier. (Talk)
Herrmann, C., Kirschstein-Barczewski S., Lukas, D. (2019): Elicited preferences of potential spontaneous unaffiliated on-site volunteers in the context of natural disasters. DAGStat 2019, München. (Talk)
Herrmann, C., Kirschstein-Barczewski S. (2018): Can DCEs determine attributes of SUVs. Statistische Woche 2018, Linz. (Poster presentation)
Award:
L. V. Kantorovič-Forschungspreis of the ifu-institute and Martin Luther University Halle-Wittenberg (2018)
---
---